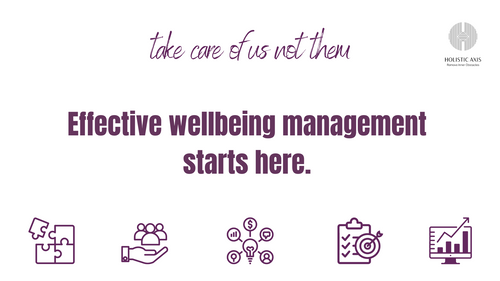 Holistic Axis was founded to extend our founder's expertise and support businesses and organisations with managing wellness related aspects of their employees in an focused and effective manner.
We reach out to the organisations as currently the workplace is one of the main stress factors for most people and this can be changed with the right support.
Similarly to hiring an accountant or a lawyer your organisation can collaborate with a wellness expert.
We help you to manage burnout cases in a cost effective way for everyone involved.
We support you to prevent developing mental health issues through creating services tailored to your environment.
We ensure high retention rates through providing tailored services focused on personal and leadership growth.
We analyse your company culture, language and core issues to help you reach maximised results.
We offer team building workshops and retreats to activate healthy and sustainable wellbeing resources that most people can't access.
Sonia Axis, a wellbeing and quality of life expert with 30 years of experience across several industries founded Holistic Axis to provide your organisation not only with solutions but also opportunities to grow and thrive as an aware business interested in maximising human potential for the best outcome for everyone.
An organisation that takes care of us, not them.