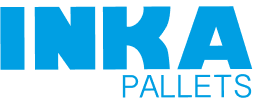 Inkapallets
Hall: 1 Stand: A13
| Material Handling
| Packaging
| Warehouse Automation
| Warehouse Infrastructure & Services
Shop Plastic Pallets with INKA Pallets
One thing that each of our pallets has in common is competitive prices and uncompromising quality and service. We provide a speedy service, with next-day delivery available on many of our plastic pallets for sale in the UK.
Our extensive product range means that we have plastic pallets that are appropriate to any company's requirements. With this being said, you can always contact our team if you're unsure about your pallet needs or if you can't find what you're looking for. We can provide expert advice, allowing you to select the ideal solution. Alternatively, we're also able to offer bespoke options, meaning that you can get your hands on the perfect pallet for your company's needs!
When searching for plastic pallets, INKA Pallets is sure to have the ideal solution. Browse our collection of plastic pallets to find your desired product.
Address
Inka Pallets Ltd
Unit 1 Horndon Business Park
West Horndon
Essex
CM13 3XL
United Kingdom