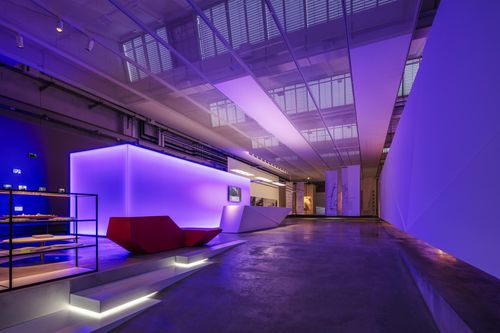 About Thorn Lighting:
With nearly 100 years' experience in manufacturing and supplying efficient, high-quality and connected solutions, Thorn knows lighting, inside out. Our knowledgeable people provide best-in-class support throughout the entire customer journey, whilst our extensive portfolio of products and technologies can be used for both indoor and outdoor applications including education, health and care, office, retail, urban life, architecture, sport, road, transportation and tunnel. Our unrivalled expertise and easy-to-use products extend further into our ThornEco range which offers economical luminaires for wholesalers. So next time you Think Lighting, Think Thorn, because we make light work for you. Thorn is a proud member of the Zumtobel Group.
About Zumtobel Lighting:
Zumtobel is a leading international supplier of integral lighting solutions with over 70 years of experience in manufacturing and supplying high quality LED luminaires and lighting management systems. As a leader in innovation and energy efficiency, Zumtobel provides a comprehensive range of products for, offices, education, industry, retail, hotel and wellness, health and care and art and culture applications. We are passionate about designing and producing the highest quality of light. Our work is driven by the knowledge that the right light can create the right environment for people to thrive when tailored to their individual needs. Guided by a unique design approach, we continuously push our boundaries in search for perfection through unique and timeless design. As we develop the next generation of lighting, we build on our family heritage to refine the aesthetics of light and shape the lighting of tomorrow. With a special blend of passion, grace and avant-garde ideas, we turn light in to an experience and remain committed to the goal of improving the quality of life through light. Zumtobel is a brand of the Zumtobel Group AG with its headquarters in Dornbirn, Vorarlberg (Austria).
Address
Chiltern Park, Chiltern Hill
Chalfont St Peter
Buckinghamshire
SL9 9FG
United Kingdom
Products
Created for challenging environments - CRAFT II – is not just two powerful high-bay luminaires. CRAFT II is more than that: it 's the first generation of Zumtobel high-bay luminaires based on the plat ...

Thorn Lighting's recessed ceiling luminaire, IQ Beam combines integrated features and a clean exterior to create a classic look incorporating the latest in lighting innovations.

Award-Winning Luminaire from Thorn Lighting The recent award winner, Novaline Style is an elegant and slim circular luminaire that provides diffused light from the front, and a subtle 10% backlight. A ...

Zumtobel collaborated with renowned EOOS design studio to develop an emergency sign luminaire that fuses clear functionality with an elegant design – a look so sophisticated that PURESIGN won the iF D ...

Powerful, Programmable, Pro RESCLITE PRO guides people in an emergency safter and smater than ever before. Thanks to innovative optics, this small powerhouse meets all the requirements of emergency li ...

AMPHIBIA is an IP66 rated LED moisture-proof luminaire. With its innovative design and high resistance levels, AMPHIBIA is suitable for the toughest of Industry applications. Different versions fulfil ...
Videos
In the new version TECTON IP64/IP54, Zumtobel's tried-and-tested TECTON continuous-row lighting system is equipped for use in harsh industrial conditions.

Shot at Zumtobel's Light Forum in Dornbirn, which is a hive of innovation and creativity, the brand was personified and the essence and very special connective potential that light offers our physical ...

Novaline Style is an elegant and slim, circular luminaire that provides diffuse light from the front, and a subtle 10 % backlight.