02 Mar 2022
Indigo WMS proves a treat for luxury hampers specialist, Virginia Hayward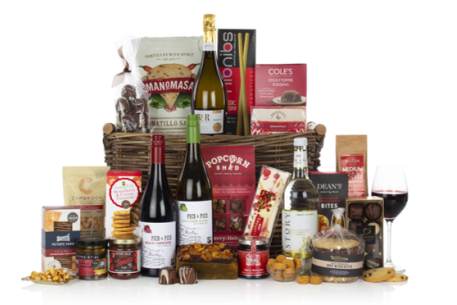 Virginia Hayward a leading supplier of luxury food and wine hampers to some of the UK's most prestigious retailers has invested in Indigo WMS to automate its warehousing at three of its business divisions.
Established in 1984 by Gin and Geoff Hayward, Virginia Hayward has grown from a cottage industry to employ over a 100 full-time staff with that figure tripling during the peak Christmas period. The company remains wholly family-owned and places a strong emphasis on the quality of its customer service, whether customers are ordering 1 hamper or 10,000, the aim of the business is to always ensure that the customer feels special. The company has diversified its original hamper business with the acquisition of Grand Illusions, specialising in modern vintage home and garden products and the establishment of a full 3PL services division, VH Logistics. The logistics operation is spread across over 300,000 sq ft of modern purpose-built warehousing in the Dorset countryside, with a further 90,000 sq ft of advanced warehousing currently under construction. They are able to offer a full suite of logistics services from storage to order fulfilment and delivery to potential clients.
Virginia Hayward's hamper business was already using an in-house developed warehouse management system (WMS), but its limited functionality was restricting future growth opportunities. The company needed a solution with the ability to add barcoding / scanners and which could provide full real-time visibility across all the companies warehouse sites from a centrally managed system.
A business case was developed by Virginia Hayward's management team to support the WMS investment initiative with the expectation of achieving eight key cost and time saving benefits. These include: space optimisation and lower operational expenses; greater inventory visibility and accuracy, reduced labour costs and increased resource optimisation, lot or batch traceability, streamlined logistics processes, improved data capture and process automation, shipment efficiency improvements and the opportunity to achieve continuous business improvements.
After conducting a full market review of software vendors to find a WMS solution, and taking the WMS vendor short-list down to two, Virginia Hayward ultimately selected Indigo Software as its WMS supplier for a number of reasons. Indigo Software offered a proven track record of integrating its WMS with Sage 200 and the consulting team gave Virginia Hayward's leadership full confidence that their investment would deliver clear returns thanks to in-depth vertical industry knowledge.
Steve Wilkinson, IT Director at Virginia Hayward said, "Indigo Software's consulting team were very knowledgeable and knew our industry as well as their own software. We were very impressed with Indigo WMS's functionality, agreed contracts at the end of 2021 and are now working on a phased install starting with Indigo's QuickStart Program to deliver the project over the next year."
Mark Leavy, Chief Sales Officer at Indigo Software said, "Indigo Software is delighted to be working with the team at Virginia Hayward, they have a brilliant business and it's just the type of operation that will see a fast return on investment from a WMS."
About Indigo Software
Indigo Software is a leading global warehousing and logistics supplier providing warehouse management system (WMS) solutions. Indigo Software provides WMS solutions for industries including food & drink, fashion & apparel, FMCG & high technology, automotive, manufacturing, e-commerce, wholesale & distribution, 3PL, pharmaceuticals, chemicals & cosmetics. Indigo Software's extensive list of happy and referenceable customers includes: Samworth Brothers, Greencore, PUMA, Regatta, Artex, Tommee Tippee, CooperVision, Tetrosyl, Ionics, Panache Lingerie, Evans Vanodine, Bunzl and Wesfarmers. Established for over 40 years, Indigo Software's success is due to our long-term customer focus, strong company values, in-depth industry experience and because we deliver and support a total solution with competence, expertise and integrity, to serve our customers' mission critical businesses. For further information about Indigo Software please visit the website at http://www.indigo.co.uk.