08 May 2023
LYDIA VoiceWear Air connects with mobile devices via Bluetooth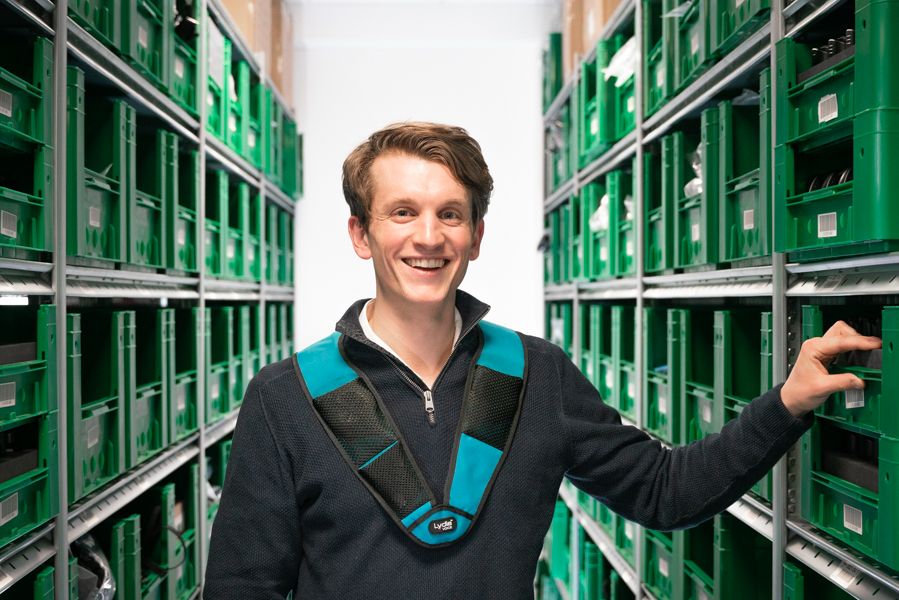 LYDIA VoiceWear Air is a a new version of its well-established LYDIA Voice order picking vest and can be connected with any voice-optimised device via Bluetooth. The voice hardware is wireless and no longer needs to be integrated into the back pocket of the Lydia VoiceWear vest, making it much lighter. Employees can therefore decide for themselves where they wish to attach the hardware. This offers a real alternative to forklift drivers, for example. The vest also contains new technical specifications. A highlight of the product is its digital audio transmission, which has been fully developed in-house and represents a considerable improvement in voice input/output quality.
LYDIA VoiceWear offers maximum freedom of movement in pick-by-voice processes and fulfils the necessary requirements in terms of ergonomics, speed and flexibility when it comes to order fulfilment. Microphone and speaker components are integrated directly into the vest, meaning that no headset is required. This form of system is unique on the market.
With LYDIA VoiceWear Air, EPG is launching a new version of its order picking vest that is not only much lighter than its previous version but that has also been subjected to a complete technological overhaul. VOXTER and the voice-optimised devices of other manufacturers can now be connected with LYDIA VoiceWear Air via Bluetooth. This gives users maximum flexibility. Another advantage is that employees can decide for themselves where they wish to attach the device. This offers a real alternative to forklift drivers, for example, as they benefit from even greater freedom of movement.
State-of-the-art technology
LYDIA VoiceWear Air is in line with the latest technological standards. Its new signal processing, for instance, ensures a robust and digital audio transmission with a high bandwidth. The established beamforming technology has also been revised. A new processor now ensures even better voice recognition and noise cancellation. Background noise is reduced considerably, as all voice components can be adapted to different environments (e.g. loud or quiet) thanks to LYDIA Voice software. The microphone array consists of six high-performance microphones (previous version: four microphones) in this new version, thus strengthening the "funnel" effect for voice commands. Voice recognition is therefore extremely reliable, even when several order pickers are working together in close proximity. The software filters out any background noise, helping to prevent voice commands from being misunderstood. Reliable voice recognition and transmission is thus ensured at all times, including via Bluetooth. Alongside LYDIA VoiceWear Air, the order picking vest will continue to be available in wired form (LYDIA VoiceWear 5).
"LYDIA VoiceWear is a real game changer in the world of order picking. Our customers who use the ergonomic audio system report of significantly increased employee satisfaction," says Tim Just, CEO Voice Solutions at EPG. "With this new version, we are addressing the current requirements of end users and ensuring that our customers always work with the latest technologies. We develop all of our hardware and software components with a focus on achieving the best possible usability for end users. This leads to increased acceptance and less staff turnover for our customers."