06 Jan 2020
Selco Builders Warehouse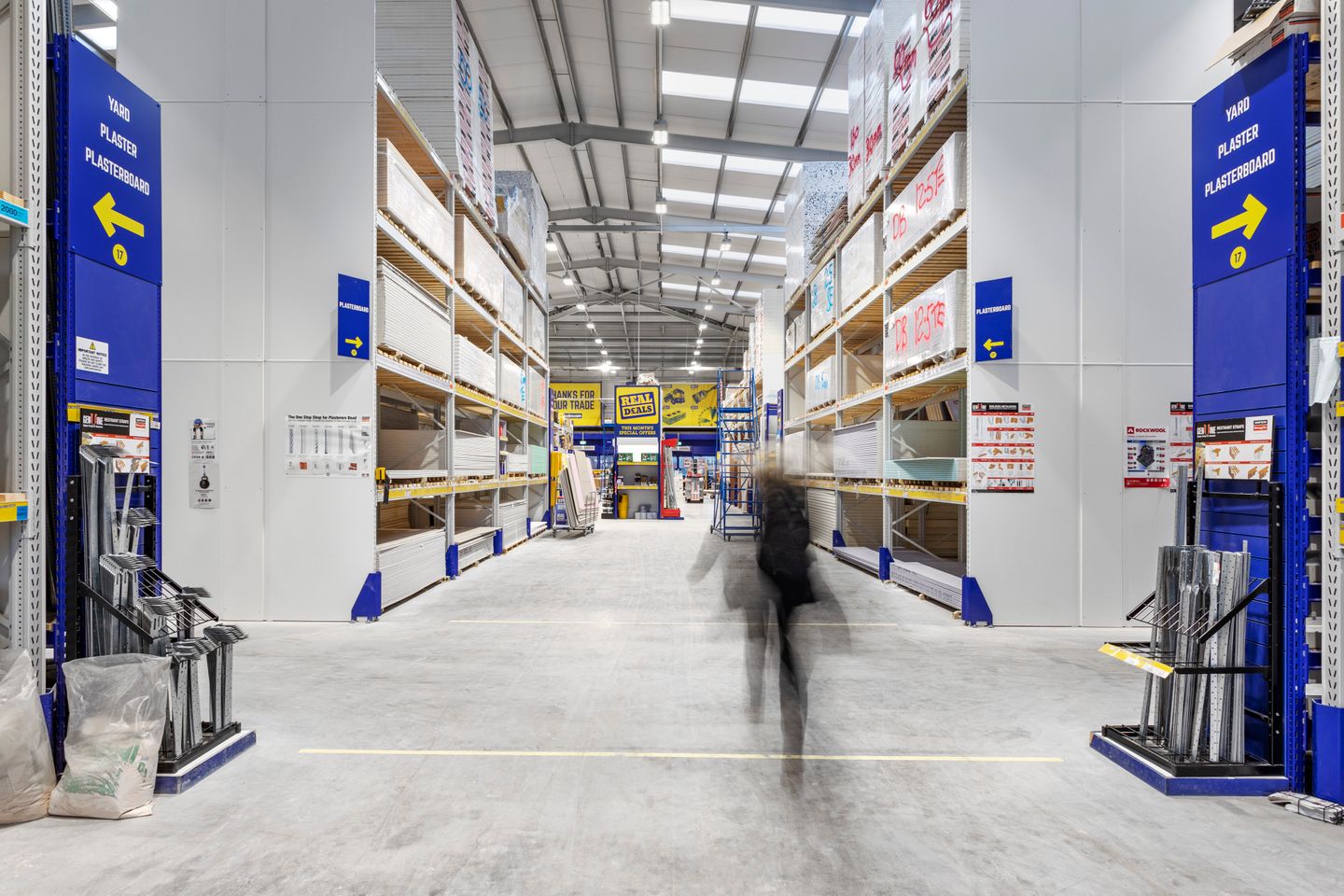 Selco Builders Warehouse is one the UK's leading and most forward-thinking builders' merchants, with 66 stores across England and Wales. With its branches open for a combined total of more than 5,400 hours a week - or more than a quarter of a million hours a year - it is imperative the business takes a responsible and proactive approach to energy efficiency, allowing the company to keep its environmental impact as low as possible.
That's why a decision was taken last year to fit Selco's entire branch network with the most high-tech LED lighting. More than half have already completed the change – and those which haven't, will be making the switch in the coming months to complete the ambitious LED lighting refit programme. Working with Grafton plc and Electricbase, Thorn supplied luminaires throughout each of the new build and refurbished developments to provide a well-lit, uniform environment that will help to increase sales whilst also providing an energy efficient lighting solution.
Selco teamed up with lighting giant Thorn to bring a responsive sensor-controlled lighting system to each individual branch using HiPak Pro, Aquaforce, Julie and Omega fittings, with sensors operating in tandem with each individual LED luminaire. This enables them to react to the contribution of natural daylight delivered via the transparent roof light panels in-store, thus producing the necessary light levels required rather than constantly being at a higher fixed illumination output. By utilising daylight harvesting technology, the efficiency of the lighting system has increased between 10 and 15 per cent.
Environmentally, the impact of Selco moving to LED is astonishing, resulting in a saving of almost 69 tonnes of carbon in just one store every year. Scaled over all 66 branches, that represents the equivalent of almost 200,000 trees – or 89 football pitches full of trees. Having smart meters installed across the Selco estate has allowed the energy team to monitor energy reductions closely. a good example of savings would be Selco's Reading branch where electricity usage has plummeted from 141,565 kWh since March 2018 to 86,774 kWh in the same period this year – a decrease of 40 per cent. Over the same period, kWh usage at the Tyseley branch has seen a decrease of more than 55 per cent and Croydon has achieved savings of almost £30,000 over the course of a year.
Thorn's IP65 rated HiPak single point suspension LED high bay luminaire has a wide optical beam and provides a direct one-for-one replacement for HID high bay fittings, providing 40 percent savings by comparison. Its precise lens technology puts light exactly where it's needed to reduce waste light and maximise energy savings.
The robust IP66 rated Aquaforce is already established as the ideal luminaire for damp and dusty conditions, with a choice of light distribution options that are engineered for high efficiency in warehouse settings. Aquaforce has been designed to resist ambient temperatures ranging from -20°C to 35°C, and its clever drip-edge design avoids dust depositing on the light output surface, so that any accumulation of dirt has minimal impact on performance and, with efficacy as high as 141lm/W, it's a highly cost-effective option too.
Part of the popular ThornECO family, Julie is an IP65 LED luminaire that offers quality, low energy lighting in wet and dusty environments. Its high quality opal diffuser provides uniform lighting and a colour temperature of 4000K. With its tough exterior and optional presence sensor and corridor function, Julie is the optimal choice for industrial and commercial applications. The Omega PRO LED 600x600mm recessed fitting has a slim 12mm profile and a UV-stabilised opal acrylic diffuser so it will retain its clean look. The IP44 rated Omega provides excellent glare control (UGR<19/22) and is easily retrofitted, whilst maintenance is significantly reduced by the 50,000 hours' life of the 4000K LED lamps supplied with the fitting.
Areaflood LED and now Areaflood Pro were chosen for the exterior of the building for their superior optical performance and control. The floodlights achieve optimal control of light (0cd at 90°, minimal spill light) for visual comfort from a compact housing with reduced weight to avoid additional structural costs in retrofit installations. Minimal maintenance is required due to 100k hrs rated lifetime on both drivers and LEDs.
Howard Luft, chief executive of Selco Builders Warehouse, said: "Selco has undergone huge and rapid growth over the last few years and the plan is for that to continue. The LED lighting upgrade programme has significant benefits for customers and colleagues alike. Builders' merchants are generally poorly illuminated spaces but the new LED lighting within the Selco branch network has produced a much brighter environment, creating an improved working and shopping experience. In terms of savings, both financially and in terms of saving energy, the results have been as dramatic as they have been impressive".