Solar panels for warehouses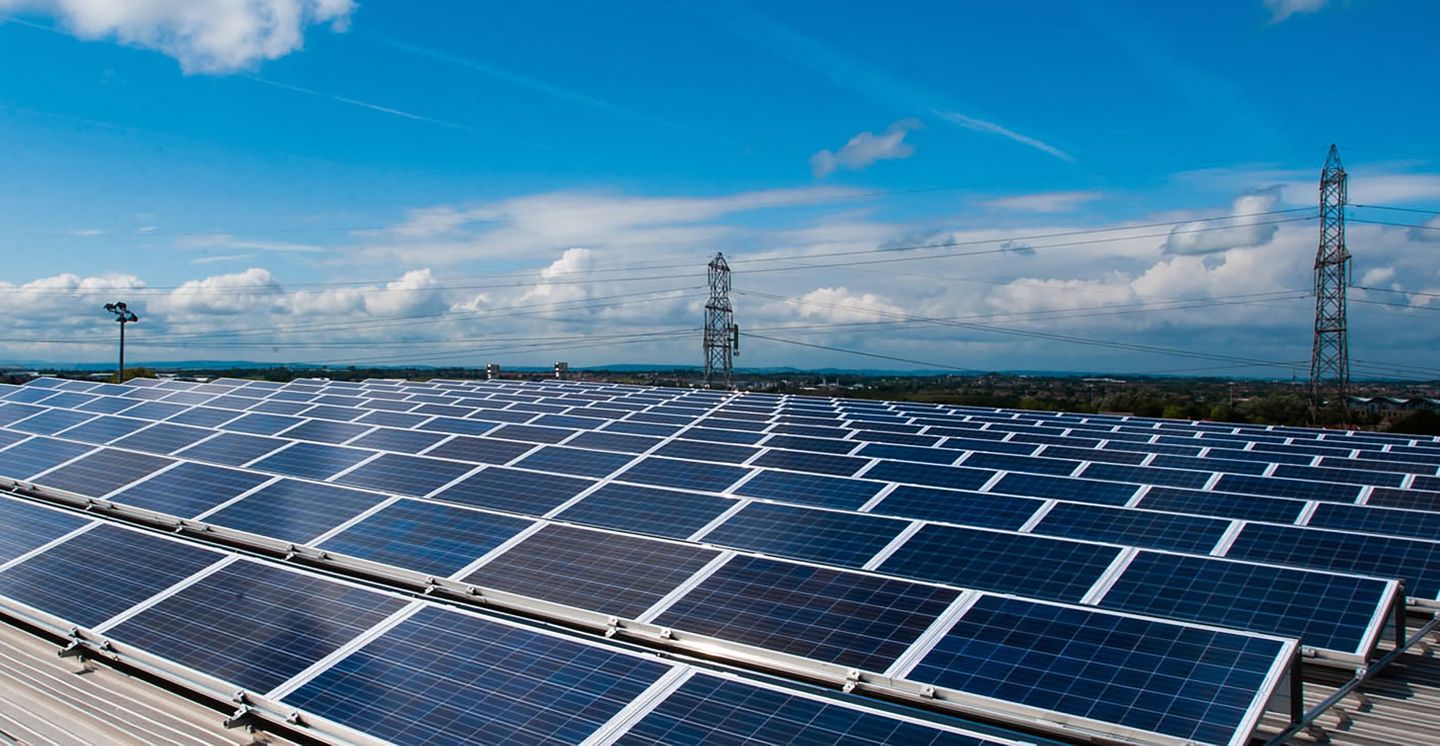 Solarsense provide warehouses with a supply, installation and maintenance service for industrial-scale solar panels and offer a range of finance options, including 100% asset finance and a competitive power purchase agreement (PPA).
An independent research report, commissioned by the UK Warehousing Association (UKWA) has identified that the UK has the roof space for up to 15GW of new solar power, which could:
Double UK's solar capacity
Reduce carbon emissions by 2 million tonnes/year
Cut warehousing electricity costs from between 40-80%
Save the warehousing sector £3bn/year
Provide a more secure power supply
Enable the sector to become a net producer of green electricity
Turn your unused roof space into an asset
A typical industrial-scale solar panel system will provide free electricity for more than 25 years, achieve financial returns of more than 15% per annum and pay back installation costs within 5-years.
Reduce costs and improve your bottom line
The carbon trust states that a 20% cut in energy costs represents the same bottom line benefit as a 5% increase in sales. Investing in renewable energy technology not only reduces your bills but fixes them for the foreseeable future. Forward thinking businesses are spending a little now to save a lot in the future.
Reduce your carbon footprint and spearhead the drive to Net Zero
Radical new climate change commitments will set the UK on course to cut carbon emissions by 78% by 2035. To reach this target it is imperative we build back better after the Covid-19 pandemic in order to avoid irreparable damage to our environment. A large factor in reaching this target includes increasing and accelerating the rate at which we generate, store and distribute our energy from solar panels and renewable sources.
Spearheading the drive to net zero will not only create a competitive advantage but a positive boost to your reputation that can be communicated to your customers and key stakeholders, helping you to win more business.
Future proof your business and power your electric fleet with free electricity
The UK government has set a target of ending non-electric vehicle sales by 2030. On roof solar panels and solar carports offer both a means to powering your operations and (or) the infrastructure to charge electric vehicles with cheaper and cleaner energy.
Installing a solar carport or integrating EV charge points with solar panels also offers an opportunity to generate an income from low grade parking spaces by billing your visitors and (or) staff to charge their vehicles on-site.
Immediate bottom line savings with no upfront cost
A power purchase agreement (PPA) has quickly become one of the most popular ways for large organisations to finance solar panels. If your energy usage and roof space meet specific criteria, this solution will allow you to benefit from a free solar PV installation, financed by a PPA provider.
Electricity generated by the system is then sold back to you at a rate much cheaper than your current energy prices; saving you thousands of pounds on your bills and providing your business with all the benefits of solar PV with no upfront cost.
You rent your roof and buy the discounted solar electricity rather than investing in a solar PV system of your own.
Get a free, no obligation quote delivered safely to your inbox
Simply fill out the form on the Solarsense website and one of their energy experts will get in touch to offer their advice and discuss your options.
Website: www.solarsense-uk.com