30 Mar 2023
How to tension belt conveyors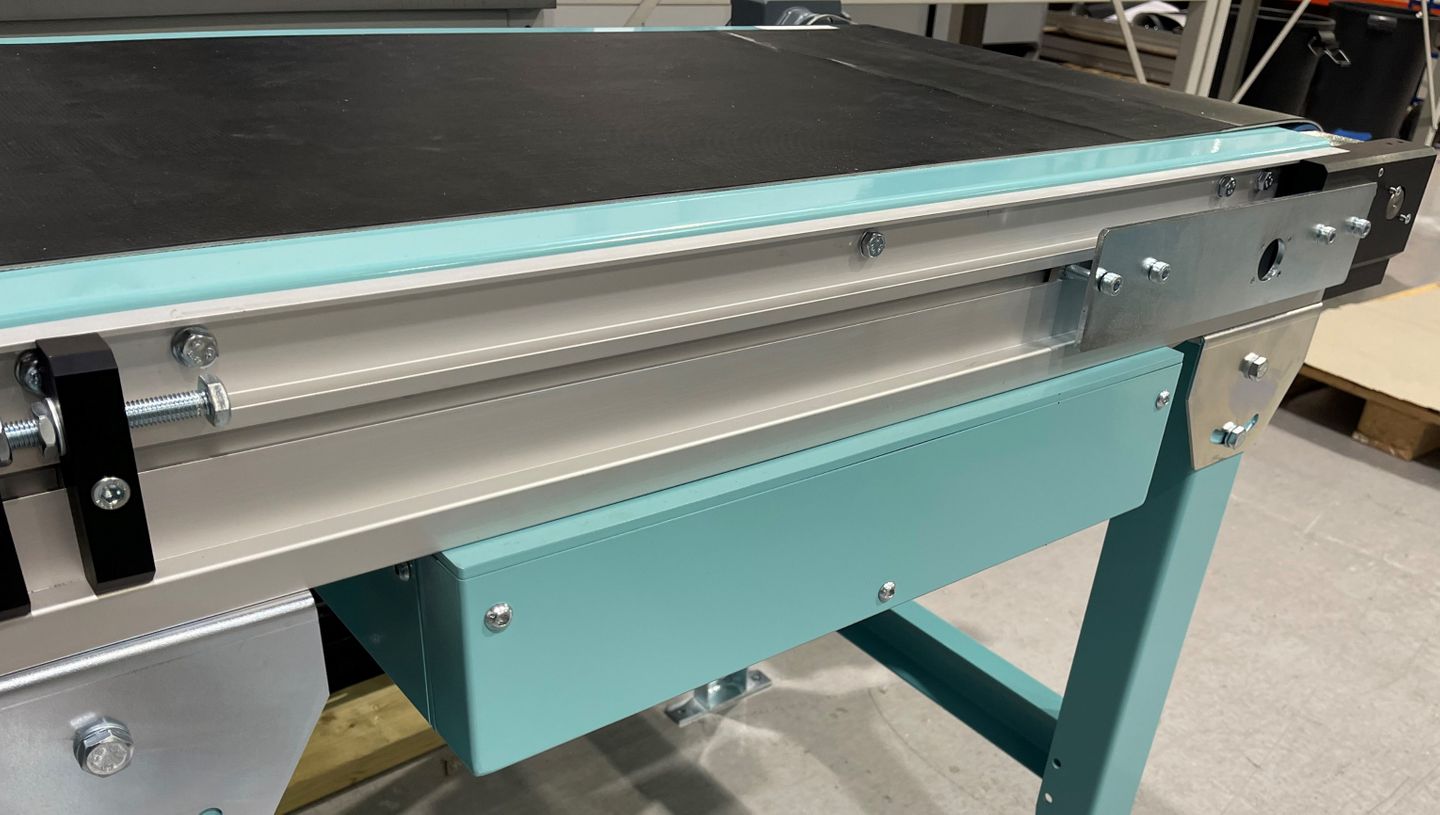 The design and functionality of the belt tensioning system for conveyors can have a large impact on both individual conveyors and a whole layout. This mini-blog discusses Axiom GB's approach to providing belt tensioning on the conveyors it supplies to material handling solutions in warehousing and ecommerce.
Axiom GB Ltd have been supplying materials handling solutions for over 20 years, with many of the components designed and built in-house. One such product is belt conveyors, a mainstay of many installations. Most of the installations comprise of many conveyor sections installed to a precise layout.
With belt conveyors, there are three main mechanical set-up requirements once on site:
Belt Tensioning.
Belt Tracking.
Conveyor Height.
Conveyor belts require to be correctly tensioned to allow drive to be transmitted without belt slip or premature bearing wear if too tensioned. Axiom GB's preferred solution is to use centre tensioning of the belt, hung on the underside in a guarded enclosure to prevent finger trap points (see image above). This method allows independent tensioning of the belt without affecting the installed length, this is especially critical for larger layouts where many conveyor sections make the complete cell.
Belt tracking is ensuring the conveyor runs true and does not wander to either side, causing belt damage or jams in extreme cases. Axiom GB's preferred solution is to used fine threaded adjustment to the angle of the rollers. This allows the tracking to be easily set across many different conveyor belt materials, simplifies belt replacement and allows a smaller bend radius to minimise unsupported gaps between conveyor sections.
The conveyor height and level is reasonably easy to achieve. Independent foot adjustment on each leg will allow the conveyor to be installed not only at the required height from the floor, but also enable compensation for floor undulations (yes we believe all customers who insist their factory or warehouse floors are level).
See more on how Axiom GB Ltd could assist your project at our website or by emailing to sales@axiomgb.com.
Let's talk.... We'd love to help solve your materials handling challenges.