12 Apr 2023
Victorinox benefits from automated logistics solution supplied by KNAPP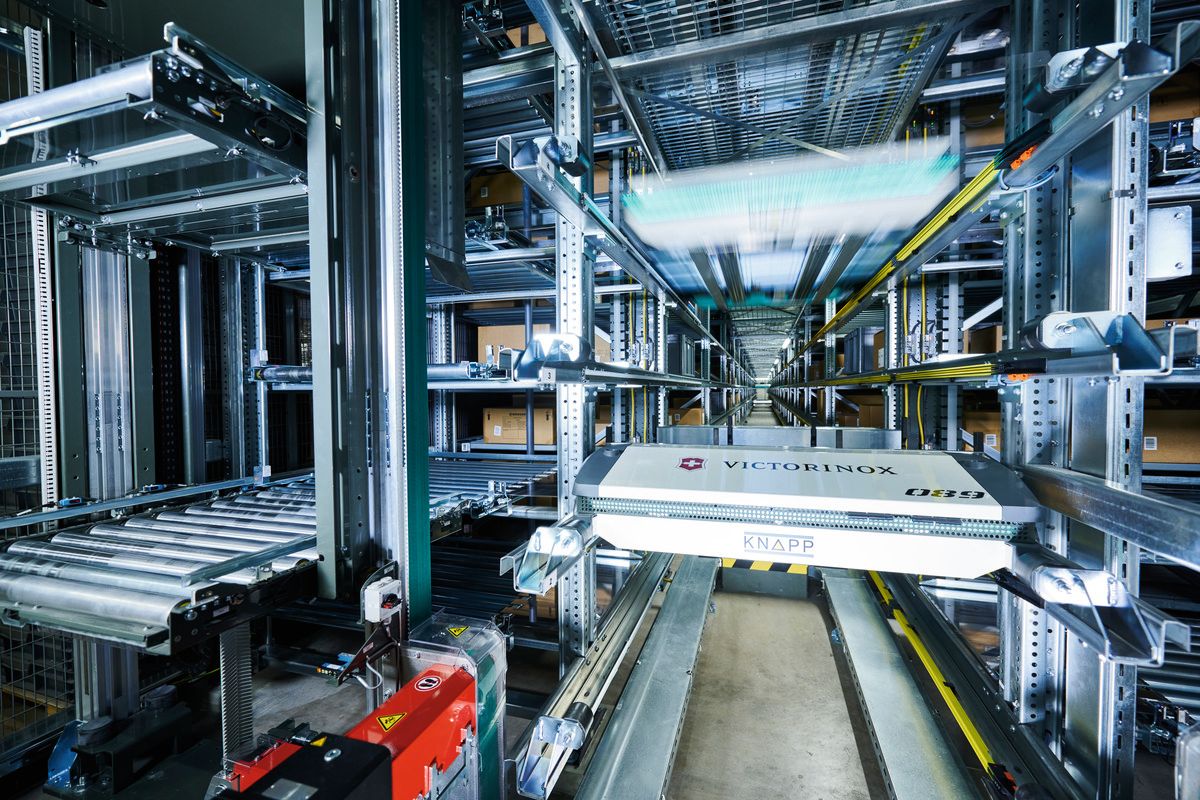 Victorinox, the name behind the legendary Swiss Army Knife, is reaping the rewards of investing in cutting-edge automation from KNAPP at its new logistics facility in Switzerland.
As well as the iconic pocket knife, the Victorinox range includes household and professional knives, watches, fragrances and luggage. The Swiss company distributes its high-quality products to wholesalers, stores and e-commerce retailers in 120 countries around the globe.
A brand-new DC
The company decided to invest in a new DC in order to consolidate all its distribution operations at a single location. Victorinox had previously been operating 17 warehouses in three European countries to supply its worldwide customers with products manufactured at several locations in Switzerland.
The turnkey intralogistics solution at the new DC – which comprises an automated small parts store, high-bay manual storage, semi-automated picking areas and a warehouse management system (WMS) – was designed and delivered by KNAPP. Located in Seewen, near Schwyz, the facility has the capacity to dispatch more than 1000 orders daily and optimises efficiency, costs and sustainability for Victorinox. With a fully integrated software solution, the warehouse enables centralized and efficient global distribution.
Constructed close to the company's headquarters in Ibach, the new DC features KNAPP's OSR Shuttle™ Evo automated storage system, ergonomically designed goods-to-person picking stations, a value-added services area and packing stations, all controlled by KNAPP's KiSoft One software solution.
Intelligent shuttle storage
After arriving at the site either by lorry or by rail at the integrated rail dock, products are prepared for storage at decanting stations in the goods-in area. Over 90 per cent of goods are suitable for storage in the OSR Shuttle™ Evo automated small parts store. Larger items are stored in the 9000-location high-bay pallet store, served by VNA trucks, which also handles replenishment of the OSR store.
The OSR Shuttle™ Evo system has 38,500 locations for multi-deep storage of containers, full cases or trays weighing up to 50 kg. The store features four 50m-long aisles with 29 levels, served by lifts and 116 high-performance shuttles, which retrieve the products required for picking and store goods again afterwards. With all movements controlled by KiSoft One, the shuttle system ensures intelligent and space-efficient storage. "Thanks to the central storage of goods in the OSR Shuttle™ Evo," says Dennis Haverkate, Supply Chain Business Process Owner at Victorinox, "we are always on top of inventory and have every item at hand at any time."
Ergonomic picking stations
Products retrieved from the OSR Shuttle™ Evo are picked at one of four goods-to-person workstations. Part of KNAPP's ergonomically designed 'Pick-it-Easy' series, these workstations enable intuitive and error-free order processing. They feature KNAPP's 'easyUse' user interface, operating on high-resolution touch screens, as well as anti-fatigue mats, noise protection technology and edgeless work surfaces.
Before orders are sent to the packing stations, they pass through the value-added services area. Here knife sets are individually assembled, watches are given high-quality packaging and guarantee slips are added at one of eight workstations.
In the packing area, goods are packed into dispatch cartons at twelve workstations. Delivery notes, consolidated invoices and address labels are printed and added, with up to 240 dispatch cartons prepared per hour during peak periods.
Integrated software solution
KNAPP's KiSoft One is a comprehensive software solution. It is used to record master data – such as item number, quantity and stock level – and determines the best storage strategy, taking into account multiple factors to optimize both the availability of goods and storage density. It takes care of inventory in the warehouse and co-ordinates the movements of the shuttles and lifts. KiSoft One also automatically sends replenishment requests for the OSR Shuttle™ Evo to the high-bay pallet store, ensuring that the right goods are always available at the right time for picking. The software calculates the ideal sequence for container retrieval and order processing, thereby optimizing the movements of the shuttles. The value-added workstations are also fully integrated into KiSoft One, with the screens here providing employees with all information relevant to each order.
Sustainable intralogistics
When designing its new DC, sustainability was an important consideration for Victorinox. The warehouse is equipped with a photovoltaic system that generates electricity to supply the entire installation and offices. The on-site rail dock means that fewer lorries are required on the roads. In addition, the logistics automation contributes to the DC's sustainability, with the intelligent technology and software optimizing transport movements and all systems being both durable and low-maintenance.