CMC PAPERPRO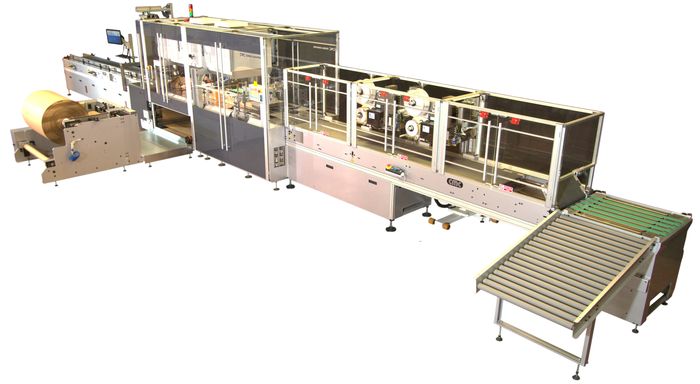 CMC Paper-PRO represents the bridge between CMC's 40 years wrapping tradition
and the newest logistics technology. Designed to automate the fulfilment of single or multi products in cut-to-size, ready-to-ship paper bags, the system can process both Paper-PRO Kraft cardboard and CMC Paper-PRO bubble paper that offers the same robustness and protection as standard polybags or padded mailers.
Orders are scanned for size so that each final bag is custom sized to the length and height of each consignment, thus reducing wrapping materials and volumes shipped. Once wrapped, bags are sealed with low impact hot melt glue to guarantee the highest sustainable results.
Optionally the system can integrate a despatch note/invoice printing and inserting system, check weighers and different sortation options.
The System is designed to easily integrate seamlessly into any customer WMS and WCS.
With outputs 3600 bags/hour, CMC Paper-PRO is the optimal solutions for retailers
and logistic companies to streamline the ecommerce bagging process and provides high performances in 24/7 fulfilment environments.
• Reduced packaging cost wrapping ready to ship bags in a single workflow
• Simplified inventory management: Paper-Pro eliminates inventory of multi-sized
padded mailers
• Less warehouse space required. Only Paper-PRO rolls to be stocked
• Bag availability: no need to procure and stock mailers. They are created in real time
• 1:1 wraps: bags can be personalised with different full colour printed logos and
images
• Less Waste: bags are cut unique to each order length size
• Sustainable: bags on demand reduce waste, excess and materials used