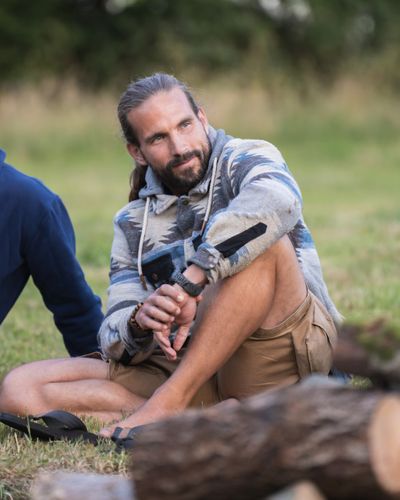 Micheal Maisey
Author and Founder, The CIP Project
Michael rebuilt his life over 30 years from a position of desperation to one of contentment and peace. Following his lowest point, when he attempted suicide in prison, Michael made a total commitment to change and helping others. He discusses his journey on his fantastic TEDx talk, From Prison to Purpose (8/06/22).
Michael's journey wasn't easy and occurred over many years. He has help thousands of people and preaches a philosophy of kindness, discusses what that means and explains how we can all help each other.
Michael will support IWLEX's organisers in the delivery of their Wellbeing Zone, which is a seminar and workshop area which focuses personal wellbeing workshops.
On 23rd May (the first day of IWLEX), Michael will personally deliver a minimum of two powerful workshops, where he actively invites visitors to get involved.
Michael will also be signing copies of his best-selling book; "Young Offender" and giving away 10 free copies to attendees of his workshop.
Michael's workshops are incredibly powerful participative experiences that will certainly take the audiences out of their comfort zones. They will give a flavour of how he helps people at his CIP Project in Devon (www.thecipproject.com). He will deliver a minimum of one workshop for women and one workshop for men. He will also be hosting a video chat room on the Inside Warehouse Community platform which can be joined via the event website, www.iwlex.co.uk.
In a passionate call to action Michael urges the Warehousing industry to be bold enough to attend, Michael comments:
"I'm calling you in, back into connection, back into fellowship, the lone wolf ideology needs to be smashed, we heal together, and we grow together, in community.
Men can find it very hard to open up about how they are feeling. I have spent the past 15 years practicing and healing myself and working with men and helping them become the person they TRULY want to be. The mental health statistics in the logistics sector are very sad, and I'm calling you in, to step out of your comfort zones so you can grow, change and take these gifts we share back to your loved ones.
By being brave enough to attend a workshop, we are sending out a message to the industry and our colleagues that brotherhood and connection is medicine. Following the event, I will be available to provide further support for those that need it."
Michael Maisey: https://www.thecipproject.com/aboutus